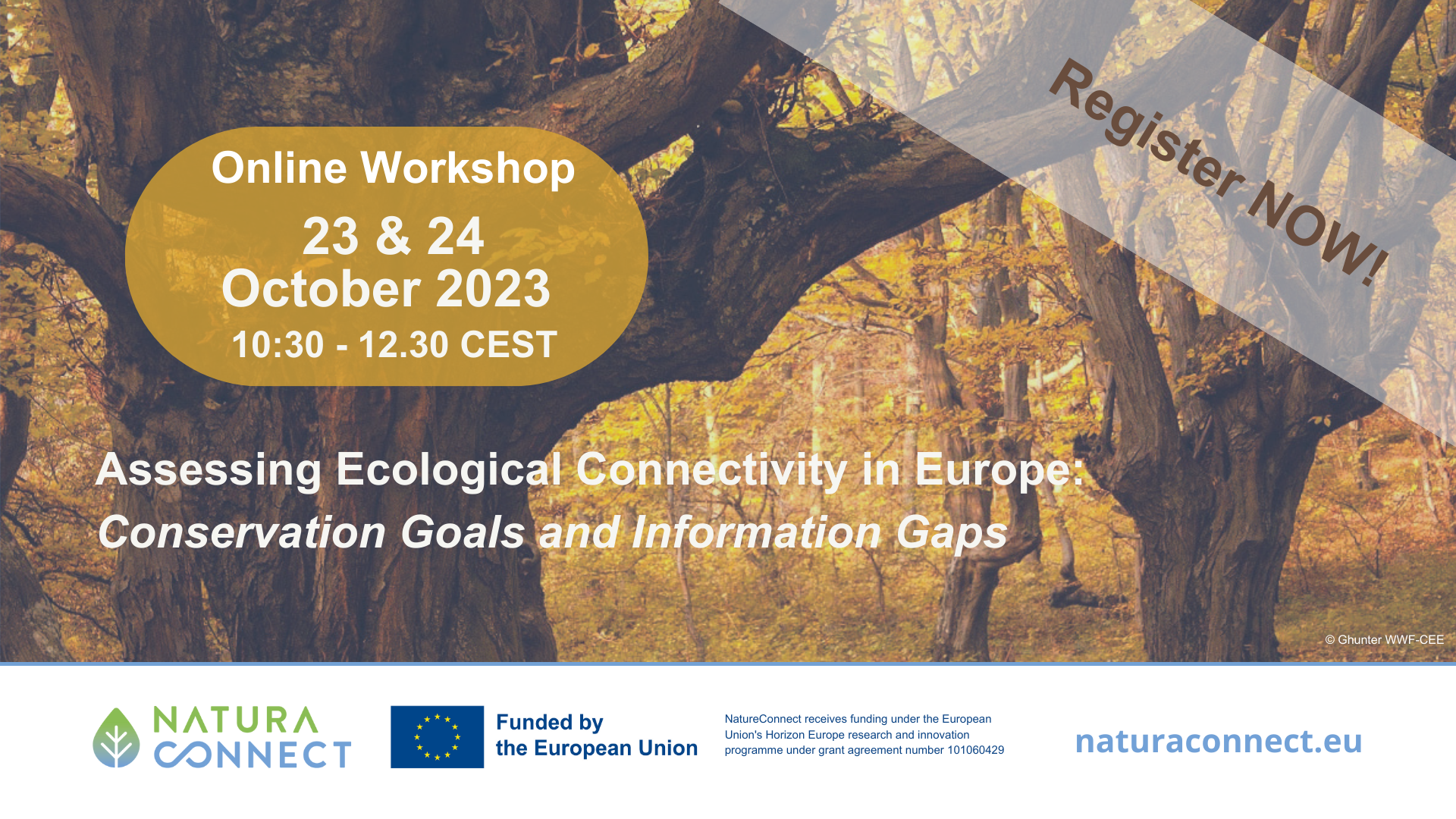 You are invited to join the next NaturaConnect workshop
Registrations for this workshop are open now. Do you want to participate?
Join our next online workshop to explore existing approaches and future needs for assessing ecological connectivity in Europe.
Ecological connectivity is critical to ensure the conservation of species and ecosystem functions. Connectivity planning requires consideration of multiple targets, such as facilitating large-scale movements of species, enabling genetic exchange, restoring natural ecosystem flows, and ensuring the provision of ecosystem services. This workshop will bring together experts and stakeholders to share knowledge and to develop guidelines for assessing ecological connectivity across the continent.
The workshop will be held over the course of two days, lasting for two hours each day: 23rd and 24th of October from 10.30 am – 12.30 pm CEST, please find the agenda below. The first day will start with results from a European-wide survey of ecological connectivity projects followed by small group discussions eliciting perspectives from the workshop participants regarding the goals and priorities for connectivity conservation. The second day will explore knowledge gaps and technical needs for supporting connectivity planning and assessments at all scales, from sub-national to European level. This will include a case study from a current transboundary connectivity planning project.
Join this workshop to share your experience and knowledge on connectivity approaches in Europe!
Please follow the link to register for the workshop! To register, first log in to your
NaturaConnect Stakeholder Community Account. If you do not have an account yet, please sign up for the Community (only takes a couple of minutes!) so that you can engage with the NaturaConnect project, easily register for events, and connect with collaborators across Europe.
Workshop Agenda
Day 1: 23rd of October. Start 10.30am CEST
Welcome and Introduction to the NaturaConnect Project Néstor Fernández, German Centre for Integrative Biodiversity Research (iDiv) – Martin Luther University Halle-Wittenberg and Francisco Moreira, CIBIO-BIOPOLIS
Overview of results of the online survey on connectivity projects in Europe Francisco Moreira and Filipe Dias, CIBIO-BIOPOLIS

Break-out Groups: Identifying priorities for connectivity planning in Europe
Plenary & Discussion
Day 2: 24th of October. Start 10.30am CEST
Welcome and wrap up from Day 1 Néstor Fernández and Francisco Moreira
Trans-National connectivity planning: the Carphatian case study. Cristian Papp, WWF Romania
Break out Groups: Technical Challenges and gaps for connectivity analyses and planning
Plenary and Discussion
Participatory evaluation with participants and fare-well Sofia Caiolo, ETIFOR